BeamTM
Wireless Transmitter for HeadMouse Nano & Swifty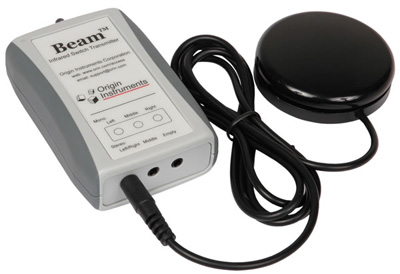 (Optional Orby switches are available)
Beam allows a HeadMouse™ Nano user to actuate the left, right and middle mouse buttons using adaptive switches without a direct connection to the HeadMouse. When used with a Swifty™ Beam sends up to three button events that Swifty interprets as mouse buttons, joystick buttons or keyboard keys based on Swifty configuration.
Beam uses low power infrared light to communicate with the HeadMouse Nano or Swifty much like a television remote control. A receiver is built-in to the HeadMouse Nano and is located under one of the small frosted windows. A receiver is also built into Swifty and is located under the window in the overlay.
Beam has two AA batteries that will provide months of typical operation.
The switch jacks accept industry standard adaptive switches, which use 1/8-inch (3.5-mm) plugs. Single and dual switches with mono or stereo plugs may be used with Beam. For example, our Sip/Puff Switch may be used with one cable to Beam for left and right mouse buttons.
Beam is generally used by those with adaptive switches that wish to break the hard connection between the switch and the HeadMouse or Swifty. Often this is a power wheelchair owner that wants independence from an attendant for connecting and disconnecting his or her switch from a desktop computer.
Features:
3 – standard 1/8-inch (3.5-mm) connectors for supporting up to 3 switches
3.75- by 2.5- by 1.1-inches (95-mm by 64-mm by 28-mm)
Weighs less than 5-ounces (140 grams), including batteries
Powered by 2 internal AA alkaline batteries
1 – year warranty
Origin Instruments Quality, Reliability and Support
Buy Beam
Swifty and Beam Bundle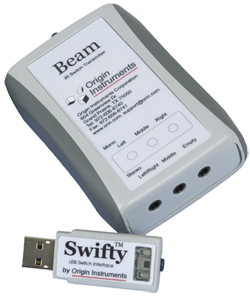 Tired of wires? Beam can team with Swifty, allowing users to remotely activate mouse clicks, joystick buttons or keyboard functions. Don't be tied down - let freedom reign.
Buy Swifty and Beam Bundle
Additional Resources
Download Beam User Guide
Buy Beam
Buy Swifty and Beam Bundle
---

Origin Instruments Corporation
854 Greenview Drive
Grand Prairie, Texas, 75050 USA
Email:
[email protected]
Voice: 972-606-8740
FAX: 972-606-8741
© Copyright 2020 Origin Instruments Corporation

HeadMouse is a registered trademark of Origin Instruments Corporation. PageBot, Swifty, Beam, Orby, Breeze, SofType, Dragger, and AirVoter are trademarks of Origin Instruments Corporation. All other trademarks are the property of their respective owners.




Quick Links:
Shop Online
News and Events
About Us