Orby

TM

Switch
Button-style Adaptive Switch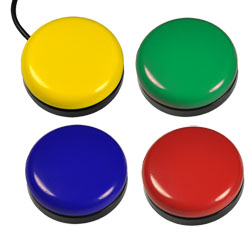 Orby is a colorful button-style adaptive switch featuring a smooth contoured design that is 2.5-inches in diameter and less than one inch tall. It utilizes the industry standard 3.5-mm headphone jack attached to a 5-foot cable. A simple press anywhere on the top will provide a switch closure with pleasing audible feedback.
Orby is a perfect access switch for emulating alternative mouse buttons, for scanning Alternative and Augmentative Communication (AAC) Devices, for accessing Environmental Control Systems, interacting with simple toys, or controlling any other device that can be navigated with one or more switches.
Colorful – Yellow, Green, Red, and Blue
Auditory – clicks with each switch actuation
Smooth – switch actuation is quiet and not mechanical sounding
Durable – made of high-impact plastic
Sensitive – can be activated anywhere on the surface and requires only 3.5 ounces of pressure
Adaptable – threaded inserts on bottom for mounting and positioning
Stable – includes gripping, high-tack friction pad base to prevent sliding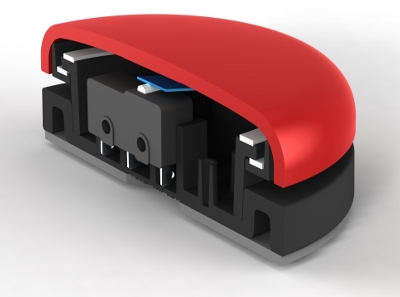 The Orby switch features integral dampers to reduce spurious sounds during actuation; while providing clear and audible feedback of the switch acutation event. Orby uses a tough industrial switch designed for high voltage, and current. (The industrial switch meets many approved standards from UL, CSA, VDE and TUV; however, Orby is not rated by these agencies and is NOT designed for switching high voltage and high current.)
How tough is Orby? Watch this short video.
The industrial switch mechanism is rated for 30-million operations at 60 operations per minute. Orby uses a cable designed for a high flex environment that employs a strong PVC jacket and high strand count wire for severe duty.
Specifications
Diameter = 2.5-inches (64-mm)
Height = 0.872 (22-mm)
Weight = 2.75-ounces (80-grams) with cable and pad
Actuation Force = 3.5-ounces (100-grams)
Cord Length = 5-feet (1.5-m)
Connector Type = 1/8-inch (3.5-mm) right angle headphone jack
Threaded Inserts = #6-32, brass
Friction Pad = 0.0625-inches (1.6-mm) thick
Internal Dampers = high density urethane
Voltage = less than 32-volts
Current = less than 1-Amp
Conductors = rated for severe duty
RoHS* = compliant
(* – RoHS – Reduction of Hazardous Substances. The European Union has implemented a requirement that certain substances above specified levels not be used in electronic devices imported into European Union countries.)
Mounting Options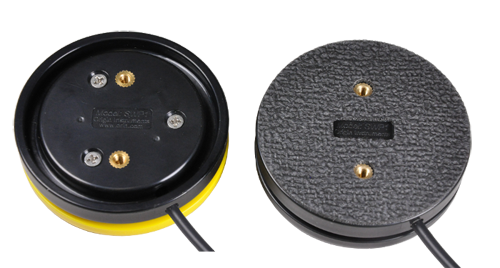 Orby has two #6-32 threaded inserts molded into the base for situations that require fixed mounting. The inserts are separated by 1.1-inches (28-mm) and centered on the switch body. The included friction pad is held in place with a pressure sensitive adhesive. It is shipped loose with Orby.
Orby Switch Includes:
Orby Switch – Lemon Yellow, Cherry Red, Blue Berry or Green Apple
Gripper friction pad
Instruction card
2-year limited warranty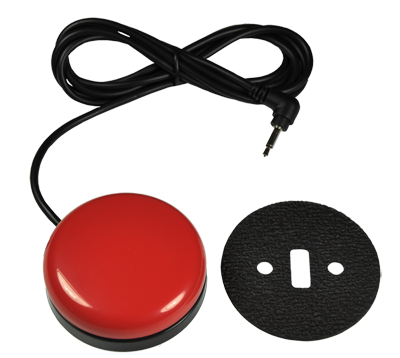 Buy Orby Switch – Choose Lemon Yellow, Cherry Red, Blue Berry or Green Apple
---
Swifty/Orby Bundle – Single Switch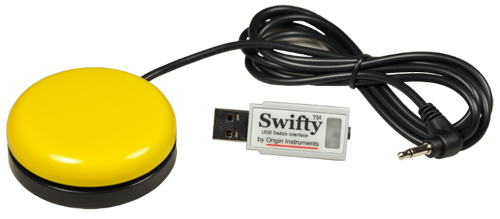 The best of both – all in one! The Swifty/Orby Bundle – Single Switch combines one Orby Switch and the popular Swifty USB switch interface all in a single solution.
Swifty is an adaptive switch interface in an extremely compact package. It accepts industry standard 3.5 mm, stereo or mono plugs for directly connecting the Orby Switch to a Windows, Macintosh and Linux computer, including many AAC devices.
Orby features a smooth contoured design that is 2.5-inches in diameter and is less than one-inch tall. Users will enjoy the soft and quiet operation with clear audible feedback of switch actuation when pressed anywhere on the top surface.
Installation is clean and simple. Attach Orby to Swifty, and then connect Swifty to the USB port on your device. Swifty comes pre-set to send a left mouse click when the user presses any location on Orby's surface, but can easily be adjusted to send other key commands including Enter, Joystick Button 1, and Keyboard 1.
Swifty/Orby Bundle Includes:
Orby Switch
Swifty USB Switch Interface
Buy Swifty/Orby Bundle – Choose Yellow, Red, Blue or Green
---
Optional Stereo-to-Mono Adapter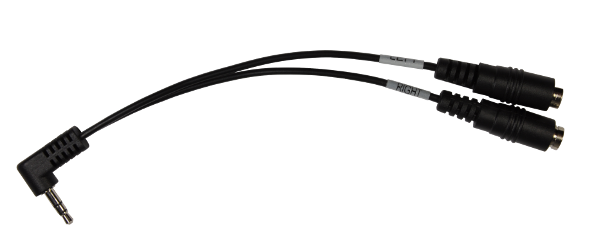 The Stereo-to-Mono Adapter is a useful accessory for Tapio, Swifty and HeadMouse Extreme users. The stereo-to-mono adapter allows two single switches with mono plugs to be connected to Tapio, Swifty or the HeadMouse Extreme. The adapter may also be used with third party switch adapted devices.
Buy Stereo-to-Mono Adapter Kit
Not All Splitters are Alike
There are two kinds of audio "splitters" one breaks up a stereo signal into a mono left and mono right channel – the kind used for a switch interface. The other kind of "splitter" is used to share one stereo signal with two sets of headphones each with a left and right channel. You cannot tell which type you have by looking, it must be tested.
Here is a simple test. Plug your splitter into an audio source (e.g. iPhone) plug your stereo headphones into one of the splitter jacks, if you only hear one of the stereo channels you have the correct splitter for a switch interface.
If you hear both left and right audio channels you have the wrong splitter.
This document has a more in-depth explanation.
---

Origin Instruments Corporation
854 Greenview Drive
Grand Prairie, Texas, 75050 USA
Email:
support@orin.com
Voice: 972-606-8740
FAX: 972-606-8741
© Copyright 2019 Origin Instruments Corporation

HeadMouse is a registered trademark of Origin Instruments Corporation. PageBot, Swifty, Beam, Orby, Breeze, SofType, Dragger, and AirVoter are trademarks of Origin Instruments Corporation. All other trademarks are the property of their respective owners.




Quick Links:
Shop Online
News and Events
About Us